Hello,
At this morning we had breakfast at 8 AM.
After breakfast we met us in our classroom at 8.30AM.We did some organizational stuff. Then we did our summary of the days Monday to Thursday for the EMOR-block.
We calculated the consumptions of the whole week and here are these:
Economical driving
Highway consumption
kWh/100km
l/100km
    kWh/100km
l/100km
BMW i3
16,77
20
VW Caravelle
72,485
7,63
61,75
6,5
Audi A3
62,7
6,6
54,15
5,7
Opel Ampera
21,95
15,1
BMW i3 Rex
6,28
Energy density of gasoline per litre kWh/L
9,5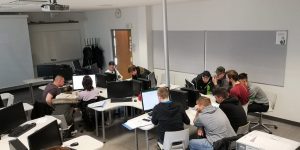 This is a finish table of origin of the heat and sources of energy.
It is 9.5.2019 and it is Europe Day
Simon, Tuomas, Eric, Marius