The morning we started with breakfast with all students.
We gathered in the classroom and discussed the questions and program of the day.
Our destination for the day was Matikaisen Lomaparatiisi at Oulainen. There we got to drive rally with BMW e36 cars. The idea was to get a picture of non economic driving consumption compared to highway consumption and the consumption with electric cars.
http://www.matikaisenlomaparatiisi.fi/autourheilu/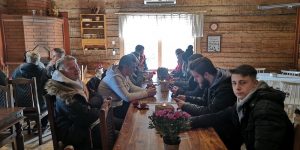 We got as a task to measure the highway consumption from Haukipudas to Oulainen and back to Haukipudas. Also we got the following questions that we were to answer during the day. With the help of these questions we got a good picture of energy consumption between race driving, normal petrol cars and electric cars
Millä autolla matkustitte?
What car did travel?
Welches auto wurde gefahren?
We travelled to Oulainen with VW Caravelle.
Matkustimme Oulaisiin VW Caravellellä.
Wir sind mit einem VW Caravelle nach Oulainen gefahren.
Kuinka paljon auto jolla matkustitte kulutti energiaa / polttoainetta matkan aikana?
How much did the car use energy/fuel during the trip?
Wieviel Kraftstoff/Energie wurde auf dem Trip verbraucht?
Total  kilometres for the travel 266. Average consumption of the car 6,5 l/100 km. Total fuel consumption 17,29 liters.
Matkan kokonaispituus oli 266 kilometriä. Caravellen keskikulutus oli 6,5 l/100 km ja bensan kokonaiskulutus 17,29 litraa.
Die gesamt kilometer sind 266 für die gesamtstrecke. Die verbrauch war 6,5 l/100 km und wir haben 17,29 liter gesamt verbraucht.
Kuinka suuri kulutus kilpa-autona toimivan BMW:n ottomoottorissa on kilpa-ajon aikana L/100km?
How big consumption is in the BMW racing car's petrol engine during the race L/100 km?
Wie hoch war der Verbrauch im BMW Rennauto während des Rennens?
Mr. Matikainen said it is about 50 l/100 km consumption with the racing cars.
Matikainen sanoi, että kilpa-autot kuluttavat 50 l/100km.
Herr Matikainen sagte das die rennautos 50 l/100 km verbrauchen.
Kuinka suuren määrän energiaa 1L bensiiniä sisältää (kWh)?
How much energy includes one liter of petrol (kWh)?
Wieviel energie beinhaltet 1L Petrol?
One liter of fuel includes 8,76 kwh of energy.
Yhden bensiinilitran energiamäärä on 8,76 kwh.
Ein liter sprit beinhaltet 8,76 kwh energie.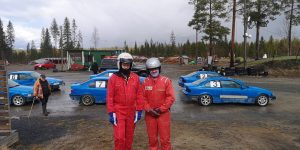 Kuinka suuri määrä energiaa kilpa-ajossa kuluu kWh/100km?
How big amount of kWh/100 km energy is consumed in race driving?
Wie Hoch ist der kWh/100km energiverbrauch in einem Rennen?
438 kwh/100 km energy is consumed in race driving.
Kilpa-ajossa kuluu 438 kwh/100 km energiaa.
438 kwh/100 km energie wird in einem rennen verbraucht.
Kuinka monta kilometriä energiamäärällä ajaisi sähköautolla?
How many kilometres would you drive by electric car with that same energy amount?
Wie Hoch ist die Reichweite bei einem elektroauto mit der gleichen Energie?
Mikä on BMW:n ottomoottori tuottama CO2 päästö g/km?
What is BMW petrol engines carbon dioxide emissions g/km?
Wieviel NoX ausstoß hat der BMW?
Vertaa BMW sähköauton ja kilpa-auton kulutusta ja CO2 päästöjä g/km.
Compare BMW electric cars and racing cars consumption and carbon dioxide emissions g/km?
Wie Hoch sind die unterschiede beim g/km und bei CO2 ausstoß zwischen den Autos?
Electric car's consumption 20 kwh/ 100 km compared to racing car's 438 kwh/100 km. So it is almost 22 times bigger consumption with race cars. 

The emissions with racing cars is 213 g/km compared to electric cars that leave no carbon dioxide emissions!
Kulutusta vertaillessa voidaan todeta, että kilpa-autot kuluttavat 22 kertaa enemmän energiaa. Päästöjä syntyy 213 g/km kilpa-autoista, kuten taas sähköautot ovat hiilidioksidi päästöttömiä!
Die rennautos verbrauchen das 22 fache als das electro auto. Das rennauto hat eine emission von 213 g/km und das electro auto keine nox emission!
Students:
Jutta Isopahkala
Jan Bauer
Lara Schubert
Lukas Niemitalo